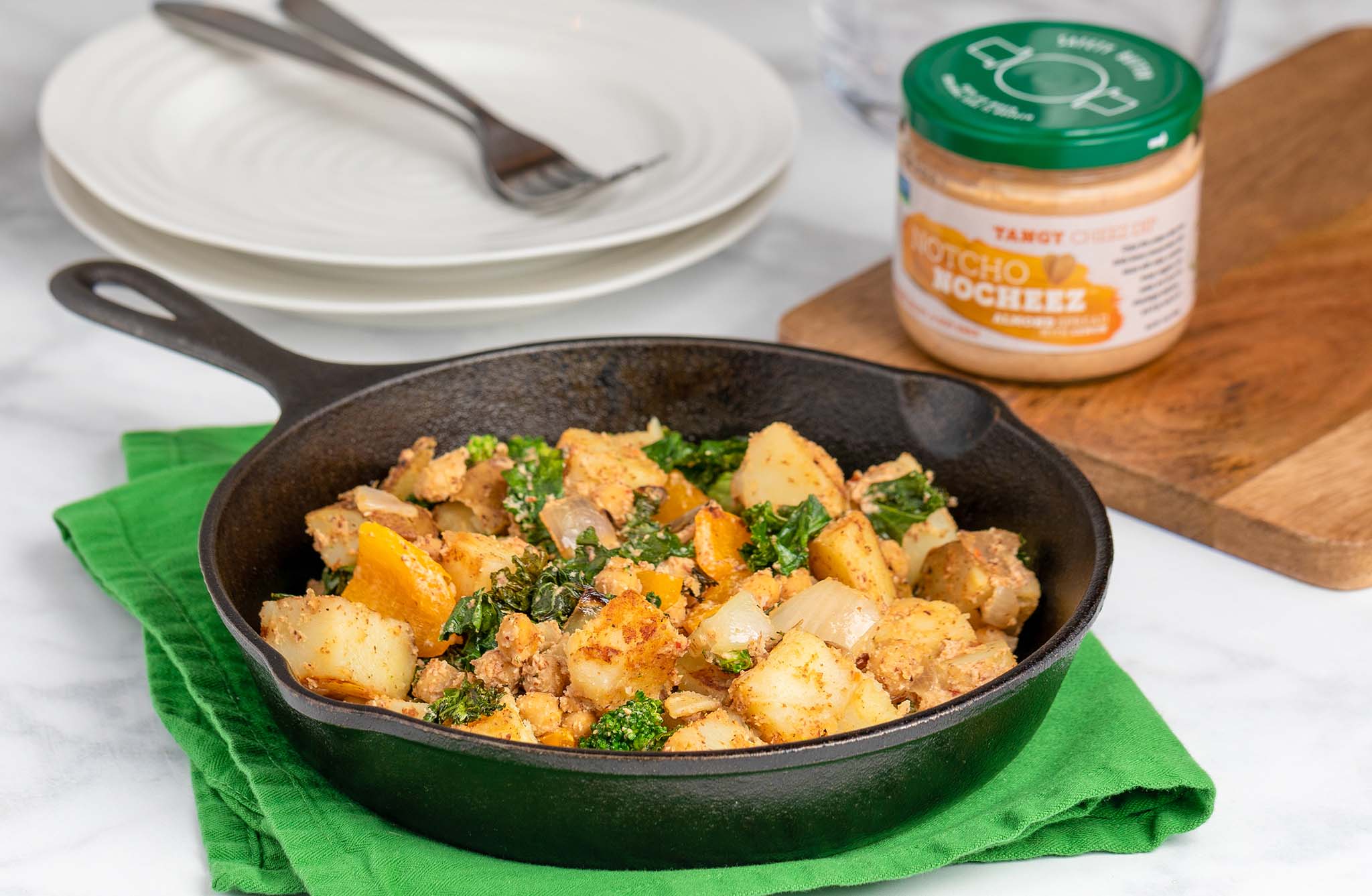 Spuds & Veggies Skillet
A tasty breakfast scramble everyone can enjoy!
Ingredients
1 – 2 Tbsp olive oil (if you don't like to use oils, use water or veggie broth to avoid sticking)
¼ c chopped onion
¼ c chopped bell pepper, any color
1 c bite-size broccoli florets
1 c chopped spinach or kale, stems removed
1 baked potato*, 1 – 1 ½" diced, skins optional
¼ tsp garlic granules or 1 – 2 cloves of fresh garlic
Sea salt & black pepper to taste
¼ cup of your favorite beans, drained (optional)
Directions:
First, heat a non-stick medium to large skillet with the olive oil over medium-high heat for a few minutes.
Add the onions, peppers, broccoli, greens, and potato.
Add the garlic granules, sea salt & pepper and stir everything well. You can also wait to add the salt & pepper when you are ready to enjoy this dish!
Stir this occasionally and let it cook for about 5 minutes. If the skillet starts to dry, add a tablespoon of water or veggie broth to prevent things from sticking to the pan.
When the potatoes and veggies have browned, and the greens are wilted and soft, you can add the beans (if using). We recommend chickpeas (garbanzo beans), red beans, navy beans, or black beans. Any canned bean will work, just be sure to drain the beans before adding! Stir the mixture.
Add Notcho Nocheez™ and stir until everything is incorporated.
Serve in bowls with a side of Notcho Nocheez™, unsweetened ketchup, Sriracha sauce, liquid aminos, or tamari! Leftovers can be kept in the refrigerator for about 3 days in an air-tight container.
Recipe Notes:
* Baked potato – I always keep baked potatoes on hand in the fridge so they are ready to go! To bake a potato, wash as many as you would like, dry them, and put them on a baking sheet. Carefully put a few slits in each potato (or pierce them several times carefully with a fork). Bake in a preheated oven at 375°F for about 45 minutes. The potatoes are done when you can easily pierce through the skin with a fork. Keep cooking for another 5-10 minutes until they are tender and then remove from the oven. Once they cool, put them in a sealed container and refrigerate for up to 5 days.
If you are adding Notcho Nocheez™ to this recipe, you shouldn't need to add extra salt.
This dish is completely versatile! Use any vegetables you have on hand in place of any vegetable in this recipe and try swapping the baked potato for pre-cooked rice.
Recipe Photos: